Hypnosis for Golf in Bergen County
By coming to Advanced Hypnosis Center you will be able to greatly improve your golf game through hypnotherapy. You are going to be surprised and delighted that you will be doing this automatically by the proper utilization of your subconscious mind. Some of the top golfers in the world have used hypnosis to remain focused under the intense pressure of a golf competition, and now you can too.
Through the skilled guidance of your hypnotist, anxiety and stress will evaporate and be replaced with intense concentration and focus, free from the negative effects of any surrounding distractions.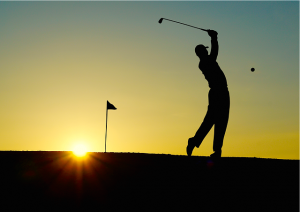 You will learn to putt reliably and feel automatically composed, relaxed and in the zone with every putt. You will find that past troubles, for example yips, will disappear and you will now have a smooth and rhythmic putting stroke that will lead you to greater and greater success in the game of golf. Yips are an involuntary twitch of a golfer's hands, wrists, or forearms, which most commonly occur when the golfer is putting. Some of you may suffer from yips and while it is true that some cases are the result of neuromuscular disorders, it has been found that most cases are mental and are treatable by psychological interventions. Hypnosis is very effective in making this problem simply dissolve and disappear from one's golf game. You will have a new, more positive interaction between your subconscious mind and your physical performance goals. You will remain poised in the most competitive situations and achieve your peak performance.
Please call Bergen County, NJ Advanced Hypnosis Center at 551-252-4904 today so we can help you  improve your golf game more quickly and easily than you ever thought possible. You are going to be free of your past frustrations, and thoroughly enjoy your new enhanced golf game, filled with the reliability and consistency you always wished for yourself.